Strategic regulatory consulting designed to match your specific CDx needs
Rapid technological advances and new precedents, including innovative trial designs and statistical analyses, are demanding an increased pace of new FDA regulatory guidance to ensure the development of safe and high-quality diagnostics. Our regulatory experts understand the unique and evolving landscape of companion diagnostics (CDx), and are at the center of helping clients effectively and efficiently move from concept to market.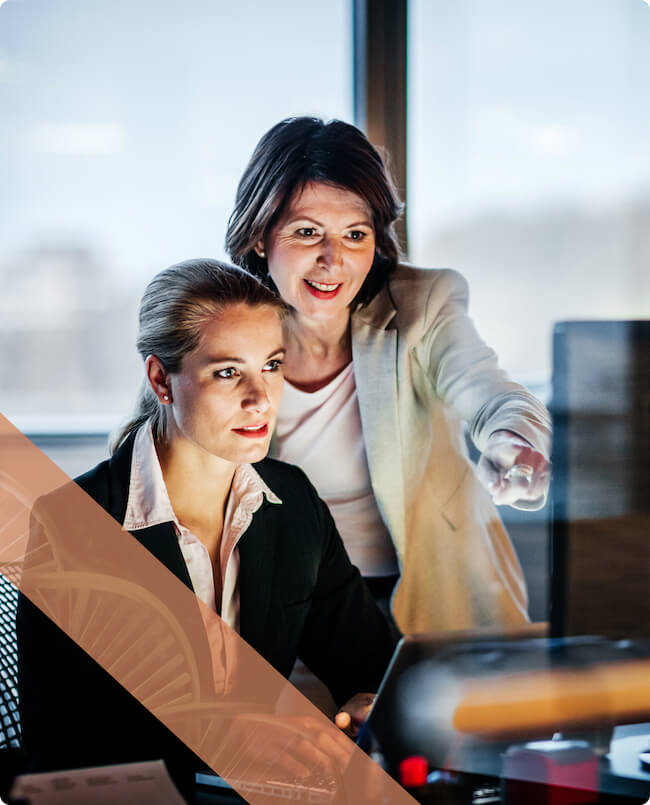 Effective coordination and planning aimed at contemporaneous approvals
The CDx and therapeutic development interdependencies also means coordination is critical. Ideally, the need for a companion diagnostic is identified early in the therapeutic development process so that the validated CDx can be incorporated into the design of the therapeutic clinical trials. However, the need for a CDx may evolve at different points in the development of the therapeutic product. Moreover, differences in review may put at risk contemporaneous marketing authorizations. Submissions for therapeutics and biologics are reviewed by FDA (under standard or priority review timelines). In contrast, reviews of CDx PMAs can be less predictable.
Our team can provide detailed planning from diagnostic partner selection and early assay development considerations to strategies for bridging a clinical trial assay to submissions for a commercializable CDx. We offer end-to-end solutions to facilitate successful approvals and adopt an agile approach to equip our clients with the insight to make decisions and adapt to changes as your program evolves.
End-to-End CDx Solutions
Seamless support from feasibility through approval and beyond
With the benefit of our considerable experience in CDx and complementary diagnostic approvals, we offer guidance throughout the CDx co-development process. Our market-leading, co-development solutions will:
CDx partner selection, distribution model factors and platform selection
Diagnostics/Therapeutic co-development timeline development
Assay feasibility, proof of concept, and validation strategies
Quality management system considerations
Humanitarian use device (HUD), humanitarian device exemption (HDE), and breakthrough designation support
Early FDA (CDRH) engagement – pre-submission and pre-IDE planning
Significant risk (SR) and nonsignificant risk (NSR) determinations
Investigational device exemption (IDE) – submissions for use of SR devices in therapeutic trials and on-going IDE support
Abbreviated IDE requirements for use of NSR devices in therapeutic trials
CDx analytical testing requirements, protocol development and review
CDx clinical validation strategies – bridging studies and transfer of efficacy
Regulatory approval strategies
Labeling considerations – claims
De novo development and submission
Pre-market approval (PMA) application development and submission
Bioresearch monitoring and manufacturing mock audit and inspection support
Post-market considerations